Meet Sydney Bordonaro: the Visionary and Stylist Who is Elevating the WNBA Fashion Game
This story appears in WSLAM 3. Shop now.
Los Angeles Sparks forward Dearica Hamby is on set, marveling at the photos that were just taken for a Jordan Brand campaign. It's June, and Hamby is with us at the Jordan Brand Flagship store in downtown L.A. She's rockin' a pair of Jordan IIIs along with a custom mini skirt paired with a Jordan sports bra peeking through a netted top. As she peers over her white shades and takes flicks of the photos that were just shot, it's clear that she's hyped about how everything is turning out…including her outfit. Not only is the look Instagram-worthy, but it's something that she wishes she could wear in the tunnel right now.
The fashion visionary behind Hamby's one-of-one look, as well as the entire editorial campaign, is none other than Sydney Bordonaro. The Pittsburgh native popped off with every look and did so by herself, without even one PA or assistant. One minute Bordonaro is in the locker-room-turned-glam-room, a pair of office scissors in hand, cutting Hamby's top, which was originally a dress; the next she's handing Chicago Sky guard Dana Evans a white leather purse and black shades to wear when it's her turn in front of the camera. When Evans sees the photos, her reaction is nearly identical to Hamby's—she, too, asks for the photos to be sent to her ASAP.
That's the pure magic that is Bordonaro. She has a way of getting her clients to trust her, all while putting together looks that compliment them both as women and athletes. Look no further than the fits she's put together with superstars like our co-cover star Kelsey Plum, who is always rockin' something crazy in the tunnel before games and is consistently featured on LeagueFits. Bordonaro is big on attention to detail; having styled Hamby before, she had the skirt custom made to fit her perfectly.
"My favorite part of what I do is my relationships with each of my clients. I cherish it," she says. "There's a very friendship-type bond between us. I love it. I'm always cognitive to never get too comfortable, though. They're paying me for a service. They're trusting me with their image."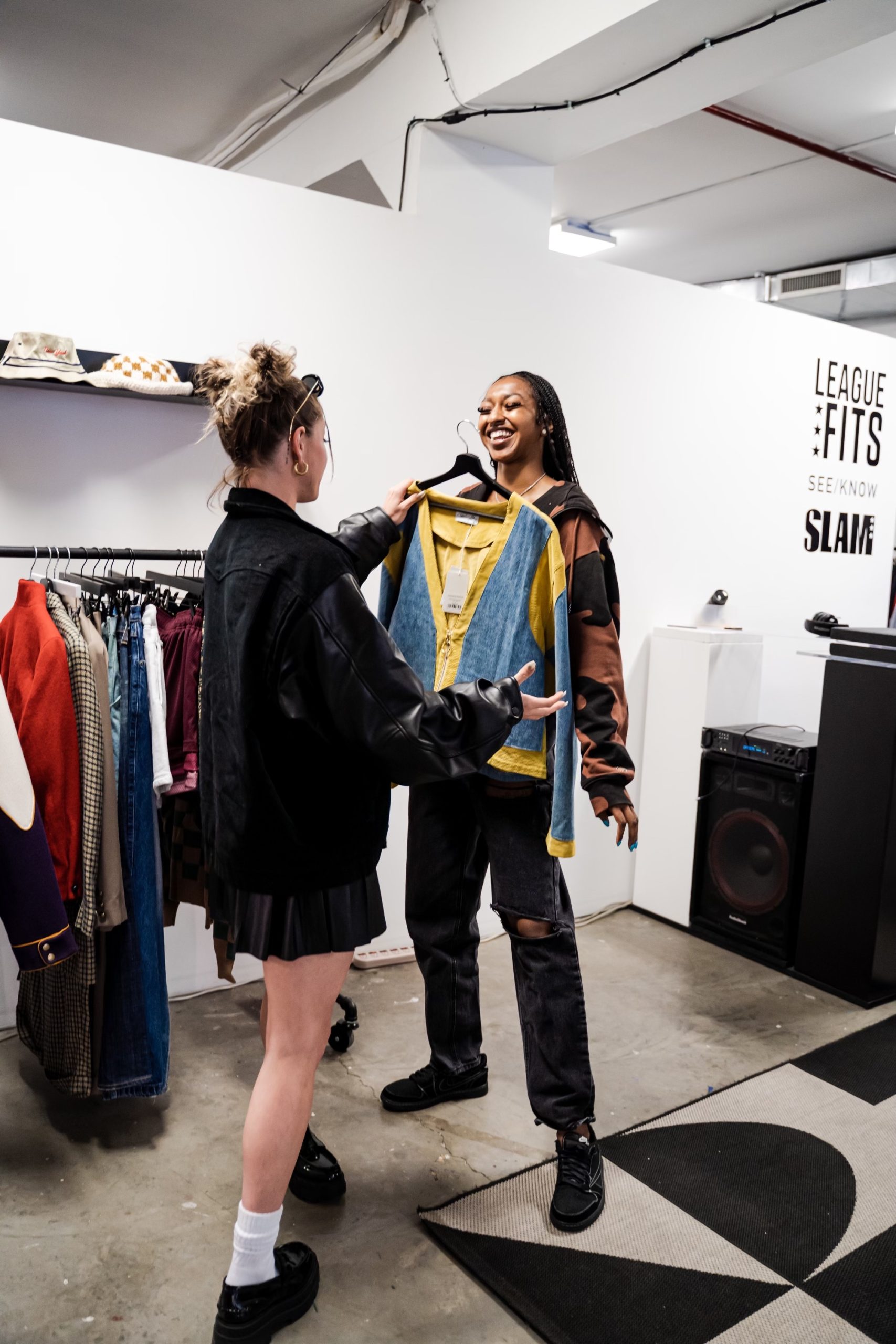 It's not hard to trust her vision either. Bordonaro's own sense of style is fire. Scroll through her Instagram feed and you'll notice her bold, bright and colorful fits, long acrylic nails and lashes. It makes sense why she's so tapped into the game—Bordonaro can hoop, too. She committed to Pepperdine as a sophomore in high school, and after graduating in three years, she did her grad year at Long Beach State. Word in the SLAM office was that she dropped buckets on Duke back in the day, which we later confirmed—as a freshman, she scored 23 points and hit seven three-pointers in that game.
"It just recently came to my attention that people who've met me from styling didn't know I was a hooper! It blows my mind because I feel like I still associate myself [with] being a basketball player. I still feel like that's me!" she says.
Bordonaro started playing basketball when she was just 4 years old and wore a different Allen Iverson jersey to school every day in second grade. Basketball has remained "the center of [her] life since then," but styling wasn't necessarily something she thought she would do. Bordonaro majored in sports management and had her sights set on becoming an NBA agent. It wasn't until after she finished school, and she didn't "have to focus on ball as much," that she started really tapping into her creativity.
"I love fashion, because in the craziest way, it's just like basketball," she says. "I love that you can portray who you are based on the way you dress. It's a form of expression. You can catch someone's vibe as soon as they walk into the room based on the way they're dressed."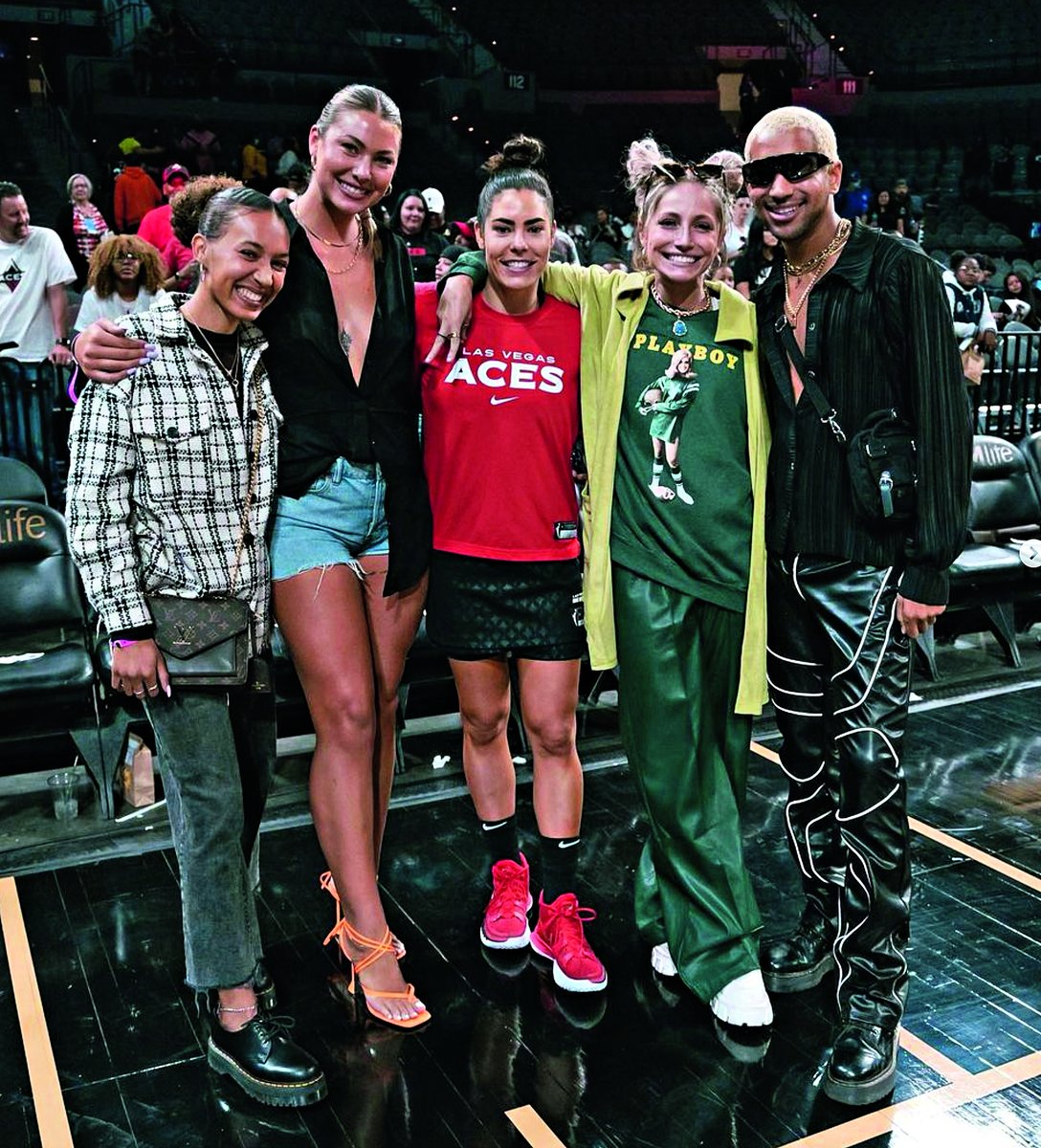 As one of the leading stylists truly elevating the WNBA fashion game, Syd is pretty booked and busy these days, but her vision has started becoming clearer and clearer as more opportunities come her way. "Recently, I decided I want a showroom, a fly creative space. I think I'm going to do that in Vegas by the end of the year," she says. "I also see myself working beside athletes, agencies and brands more and more. I want to build a team around me. I want to bridge the gap [because] I see a disconnect here.
"Great things take time," she adds. "I'm really enjoying the process of building this thing up."