Jamal Murray Debuts the New Balance TWO WXY v4 and Shares the Secrets to His Jumpshot
Jamal Murray enters the photo studio we've rented in Denver and puts on the yet-to-be-released New Balance TWO WXY v4. Right to it. J. Cole is bumping on the speakers. Murray quickly begins posing for his flicks in the v4. 
As the name indicates, it's the fourth version of New Balance's flagship performance basketball silhouette. The NB design team turned up the volume with this one. The v4 is the first time that they've combined their high-quality cushioning technologies. FuelCell and Fresh Foam dance around each other, weaving and mixing on the v4. Things are gonna get all kinds of plush when the pair drops later this year. 
Time to get scientific. It's the only way to correctly articulate the incoming elegance. Please peep the elevated diction in honor of the opulence. This is decadent expressionism. 
KICKS 26 featuring Jamal Murray is out now. Shop now.
Starting with FuelCell, New Balance took foam cushioning and hit that sucka with nitrogen. By infusing it with an element straight from the periodic table, some serious softness gets unlocked. The FuelCell cushioning that's packed with nitrogen was seen on the v3, but it wasn't joined by Fresh Foam. Now it is. Fresh Foam was made by 3D motion capture study. The engineers who worked on it collected data from pressure mapping and force application and then used that data to get the ideal comfort. 
When the dust settled on the v4's final form, the FuelCell showed up in the lateral forefoot
and the medial heel. Fresh Foam popped out in the medial forefoot and the lateral heel. The v4's outsole shows how the setups unite. It's impressive engineering to get different compounds to interact with each other. FuelCell's job is to provide dynamic responsiveness. Fresh Foam's objective is comfort. Breathable mesh then covers the v4's upper. There are also mid-foot webbings for lockdown and a big external heel counter. 
"Smooth," Murray says about the v4. "It's light. Comfy."
He's been a member of the New Balance squad for nearly three years now. As one of their most important athletes, the brand relies on his input to drive the TWO WXY franchise's direction. 
"Just comfort, first and foremost," he says on what he asked New Balance to deliver in the v4.
"And I like colors. I like being able to separate the colors. I just want to be able to have more play in what it's going to look like on the court. Even the black and white, something so simple as black and white, kinda reminds me of the old T-Macs in a way. Just kinda brings back memories. And I see the potential in what we can do this season."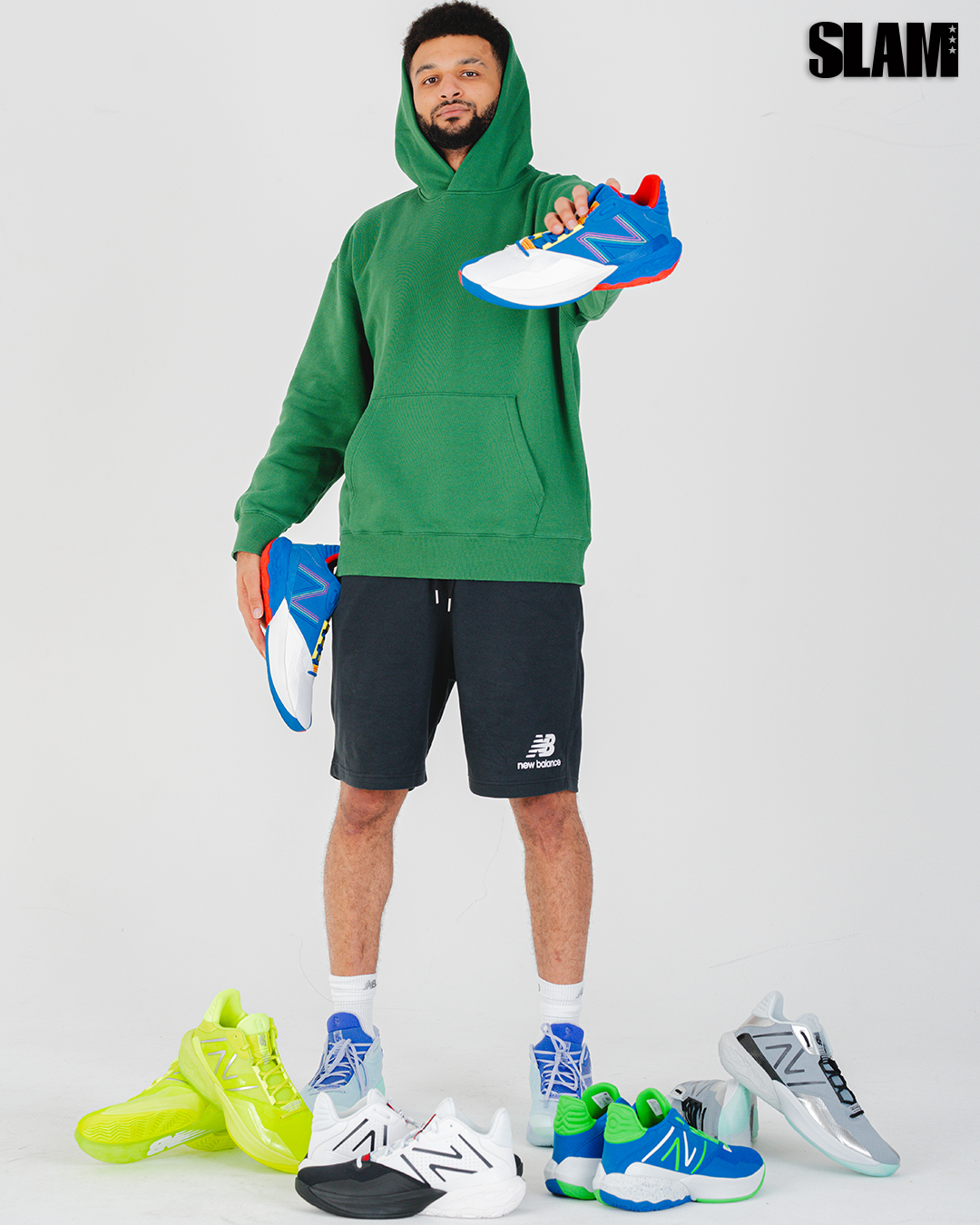 Speaking of what he and New Balance can do this season, he offers a slight preview of the v4 PEs he'll be rocking in 2023-24.
"You'll definitely see the flooded out again, for sure," he answers. That's a reference to his preference for sneakers made up of mostly one hue, so much so that it floods the entire sneaker. "That's my favorite. I like to have a sleek look, clean look, nothing too fussy. But I think with this, the way they designed it, I can still be creative.
"This doesn't look blocky," he goes on about the sneaker. "And I can obviously play with the colors and put it to my liking. As long as it doesn't look too fussy. I can still look clean. I can either go with the flood look or I can mix it up."
Murray says that footwear played a big role in his creativity as a kid.
"That was the first thing I was able to create," he says. "I did a lot of drawing growing up. My dad did a lot of drawing and sketching. He did t-shirts and hoodies and all that. And I feel like shoes were my first way to, you know, put what I had in my mind onto the court."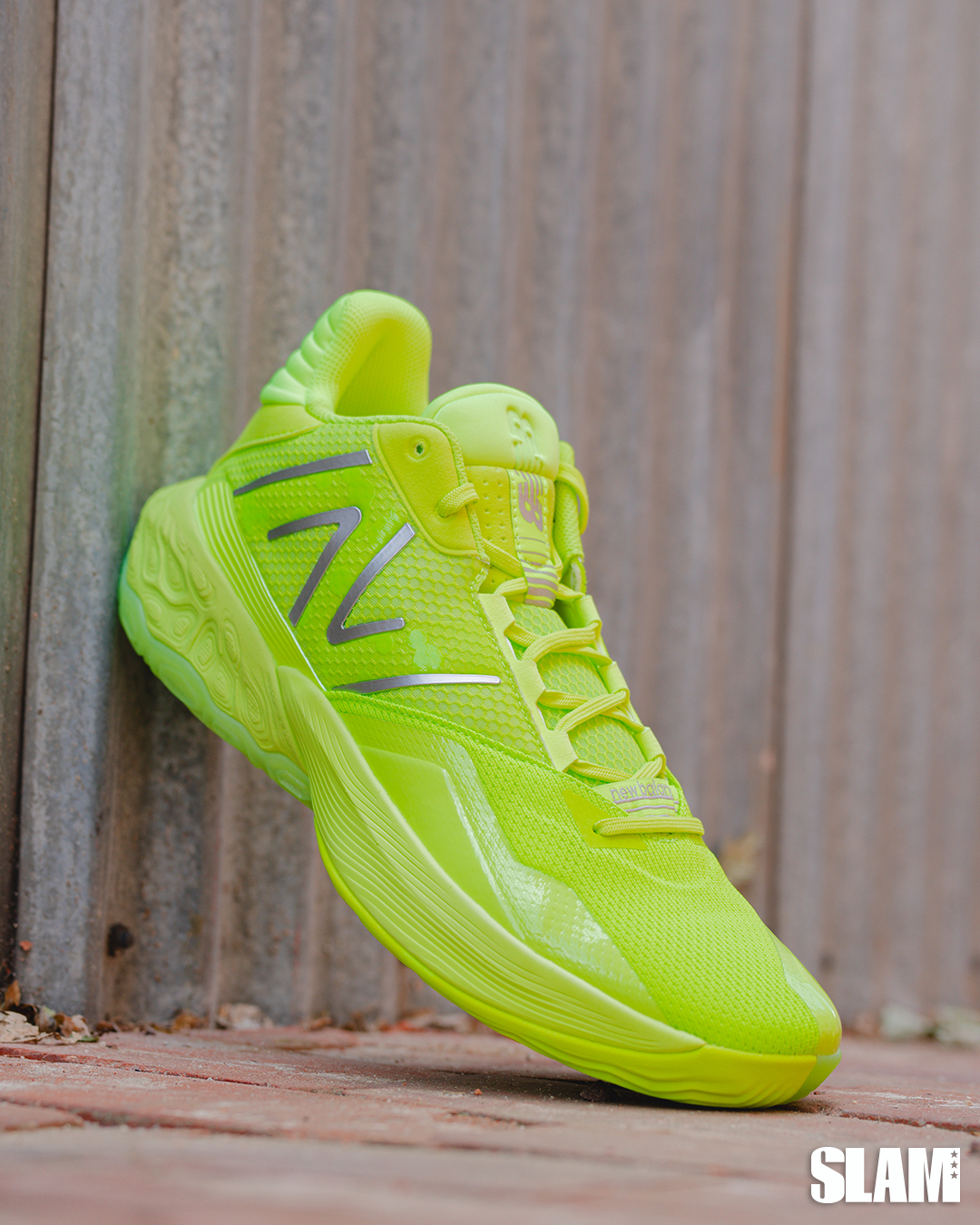 Though NB doesn't offer much on Murray's v4 PEs, reps confirm that allusions will be made to Murray's heritage, his love of the UFC and even his appreciation for red and white wines.
These days, Murray says that music has become his creative outlet. He likes to read lyrics as artists like Lil Wayne, Eminem or J. Cole are mid-flow. With all the traveling he does and the time he spends getting mentally prepped for high-octane physical performance, he's constantly listening to music, so much so that it's helped him off the court.
"Actually, music helped me speak a little bit better," Murray says. "Getting in front of big crowds, I used to get really nervous. I still do to a point, but it used to be bad back then. And being able to read lyrics at a faster pace helped me articulate what I'm trying to get across better."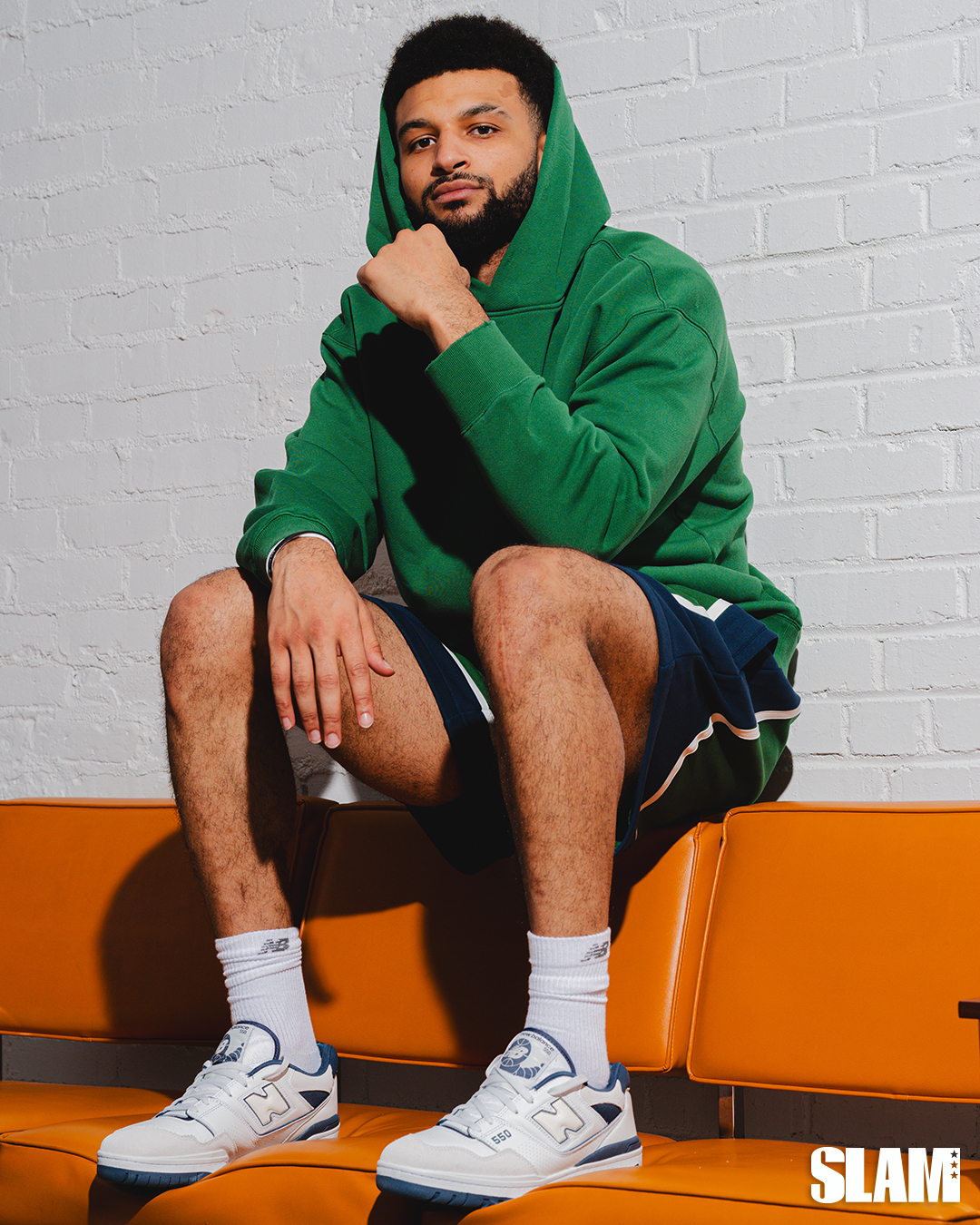 It's only been about two years since reading the lyrics has made him feel more comfortable with speaking in public. He's pretty comfortable right now at our shoot. He's gravitated to the white/black/red v4s since he came on set. In between rapping along to every line of these Cole songs, he's been coming up with ideas. He's thrown up a few peace signs. He's pointed to his ring finger. He's done his own styling and picked out what he feels most comfortable in, namely the dark green hoodie he's wearing on this cover.
Always a floor general.
Just less than a month has gone by since the championship-clinching win on June 12.
Murray's story is well known by now. He tore the ACL in his left knee on April 12, 2021, and still managed to climb all the way up the mountain to win the title. 
What's less known is the man who lived the story. Murray has a tendency to stay quiet and not open all the way up. It's not out of difficulty. He's not a disrespectful human. In fact, it's because he doesn't think people will understand. He lives his life in the details. This is somebody who understands the feeling of individual muscles.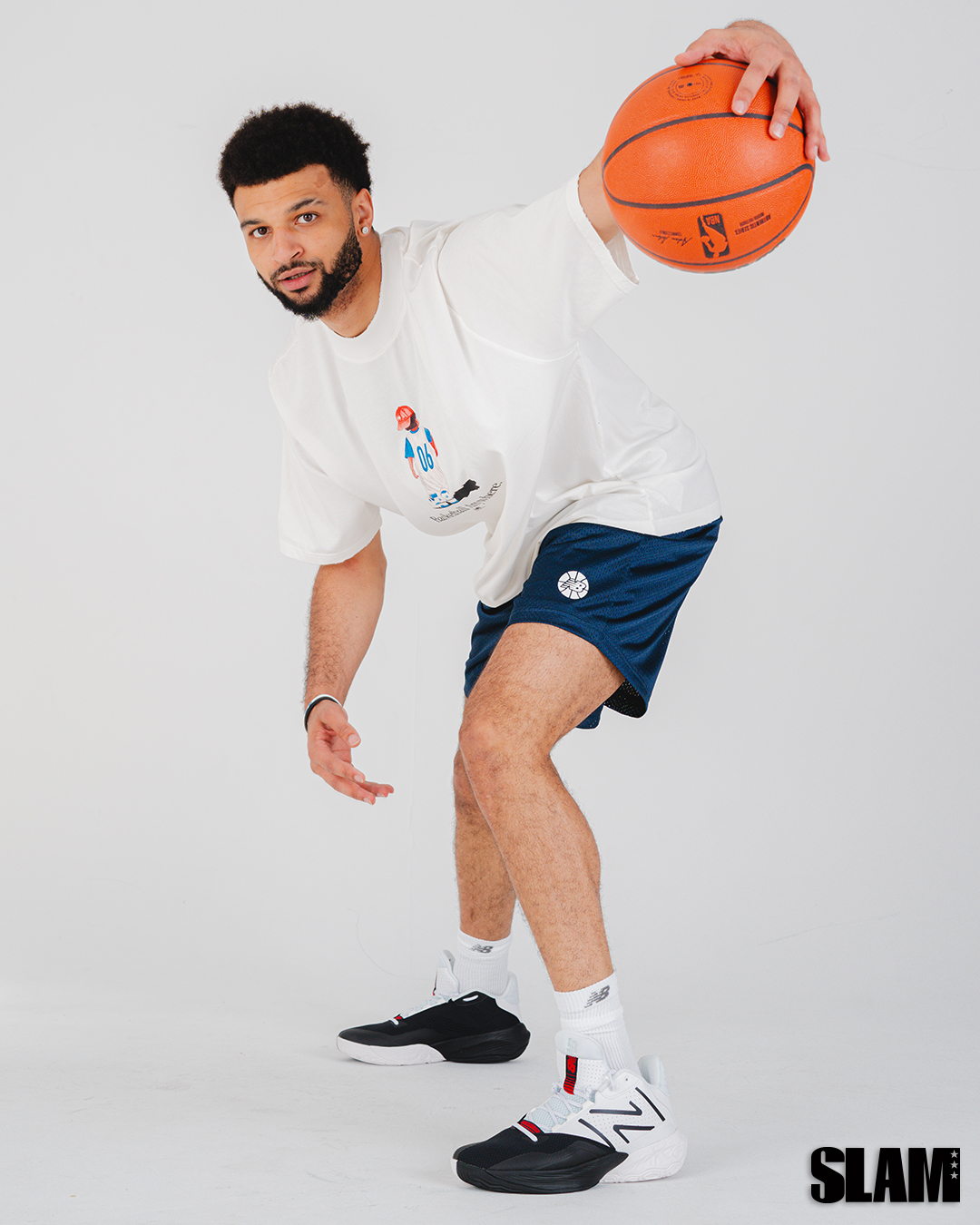 He pays attention to the heel movements of his opponents. He's extremely attentive, but he operates in a world where speed and ease are the social currency. His true love of the game definitely takes more than 15 seconds to explain and that's just about the attention span for most of the basketball-viewing public. That's part of the game's beauty. It can be fast food, or it can be a five-course meal that lasts four hours. Murray likes the latter. It just takes him a while to show it.
Go back and watch his postgame press conference after the Nuggets won it all. He had been at the podium for about two and a half minutes when he started to break down the way his shot was feeling. Headed into a very technical territory of jump shooting, he stopped himself. "Forget—whatever," he said on stage. He cut himself off. He stopped himself again during our interview. He was asked about an infamous staircase. It's a staircase he's mentioned in interview after interview and would prove to be a barometer for his rehab.
"Obviously when I first got hurt, I couldn't even bend my legs," he says. "So going up the stairs, that's why it sticks in my head so long. And with the injury and the knee, when you're going down the stairs, you feel the tendon working. So when I was healthy enough to go down and up stairs, I could feel the wiggle on the way up and down. I could feel [that] I couldn't bend as much. So that was stuck in my mind. Like, I gotta lift more, I gotta go deeper in my lifts when I'm doing single leg. I gotta do a heavier weight, I gotta ice more. I'm too sore today. That was my tell of how my body was feeling and where I was at."
He almost didn't allow himself to speak at a granular level about the sensation of one tendon in his left knee. But the granular level is the very best level.
After that, it was only about the details. Jamal Murray, NBA champion, New Balance athlete, pride of Kitchener, Ontario, broke down his approach to watching film and shooting the basketball at a very, very, very granular level. Here's some real insight into the mind of a title-winning point guard:
"I go home and I watch so much film. I'll be at dinner, throwing on my highlights. I'll be watching some other guys. Talking about movements in basketball, and feel, and rhythm, and that hop that you're talking about. Trae Young does the hop, too. Every time I do the hop, I'm probably rejecting. Every time he does it, he's looking to reject or he's looking to pull up. It's a deceptive thing. You create an off-beat step to get your opponent going one way. You're trying to make your defender think that you don't see what's there. Even if he's sending me that way, I'll just turn my body more and hesitate so that as he steps, I haven't gone anywhere. Now I can reject or I can play off it. [Nikola Jokic] flips the screen, pull-up three. It's all a read, and the reads are so minute, so detailed, a lot of people don't know what I'm talking about.
"So when I watch a highlight, right? Say I reject a screen and I shoot a pull-up three. An easy example. I'll watch my shot, my steps. I'll watch especially the timing. A lot of times, especially in transition, I'll throw the ball to Jok and you don't even see that we made eye contact. But I remember, OK, he looked at me then. His defender wasn't looking. That pass is there. Or, The help defense didn't see that so I know that's there. When I shoot that pull-up three, as soon as the defender goes like that, that's when I go. It's hard for them to look back and see that. I'll look at all that. Then when I get to the shot, I'll look at how I went to my shot. Did I go left-right? Did I go right-left? Did I hop? Did I lean too forward? Did I jump too high? Did I not jump at all? Did I take too long? Did I arc it too much? Did I not hold my follow-through? Did I lean to the left because I was going to the left? Did I lean to the right? Did I over-lean? Did I over-kick? And they're all makeable shots so when I dissect myself, I'm not—I could always do something better. But if I'm going to take that shot again, there are things I can fix to make it. So then I watch reactions. I'll watch the fun stuff. I'll watch the coach. How'd he react to a bad shot I made? Who stood up on my team to celebrate the three? Stuff like that."
This section has not been for the casuals. This section has been for the 'heads. It's been for the basketball-playing, mechanic-loving, film-obsessed nerds. Just a little bit of revenge for all of us.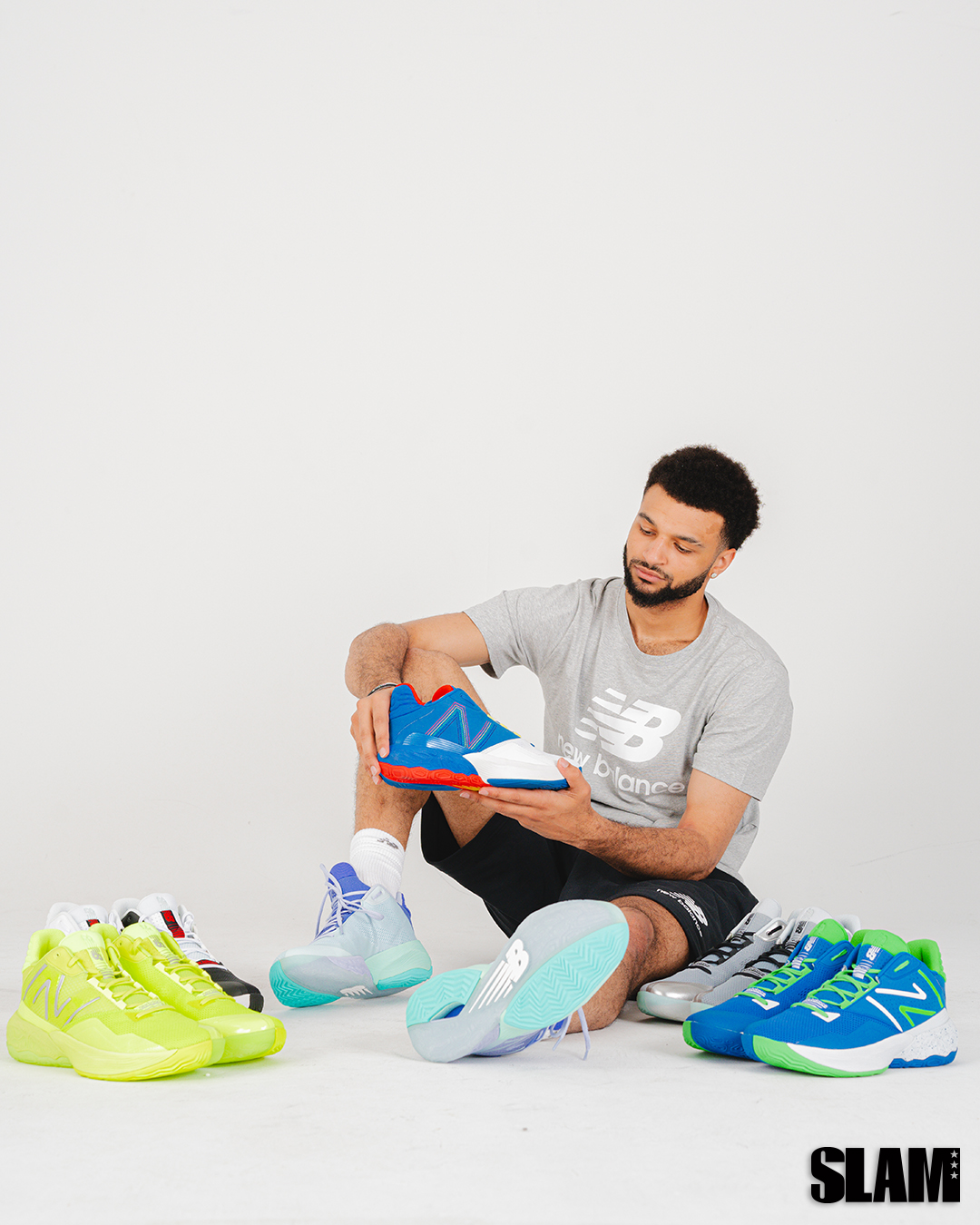 An orange couch has been sitting in the corner of the studio. Murray moves from the first photo setup over to the couch and quickly says these flicks are his favorite of the day. Looking over at the monitor, his face instantly shifts from mean mug to smile when he sees himself propped up with the v4 colorways all around.
Click, snap, lightbulbs go off.
The photos taken, the interview done, the real love for the game showcased, Jamal Murray takes off the yet-to-be-released New Balance TWO WXY v4 and exits the photo studio we've rented in Denver. 
---
Portraits by Marcus Stevens.