This story appears in WSLAM 3. Shop now.
This season marks a new era for the New York Liberty, who, 27 years after the debut of the WNBA, are eyeing their first championship.
After working aggressively during the offseason, the Liberty front office was able to successfully recruit 2021 MVP Jonquel Jones, two-time WNBA champion and 2018 MVP Breanna Stewart and 2021 WNBA champion Courtney Vandersloot to join the likes of 2021 All-Star Betnijah Laney, 2020 No. 1 overall pick Sabrina Ionescu and the rest of the young Liberty crew.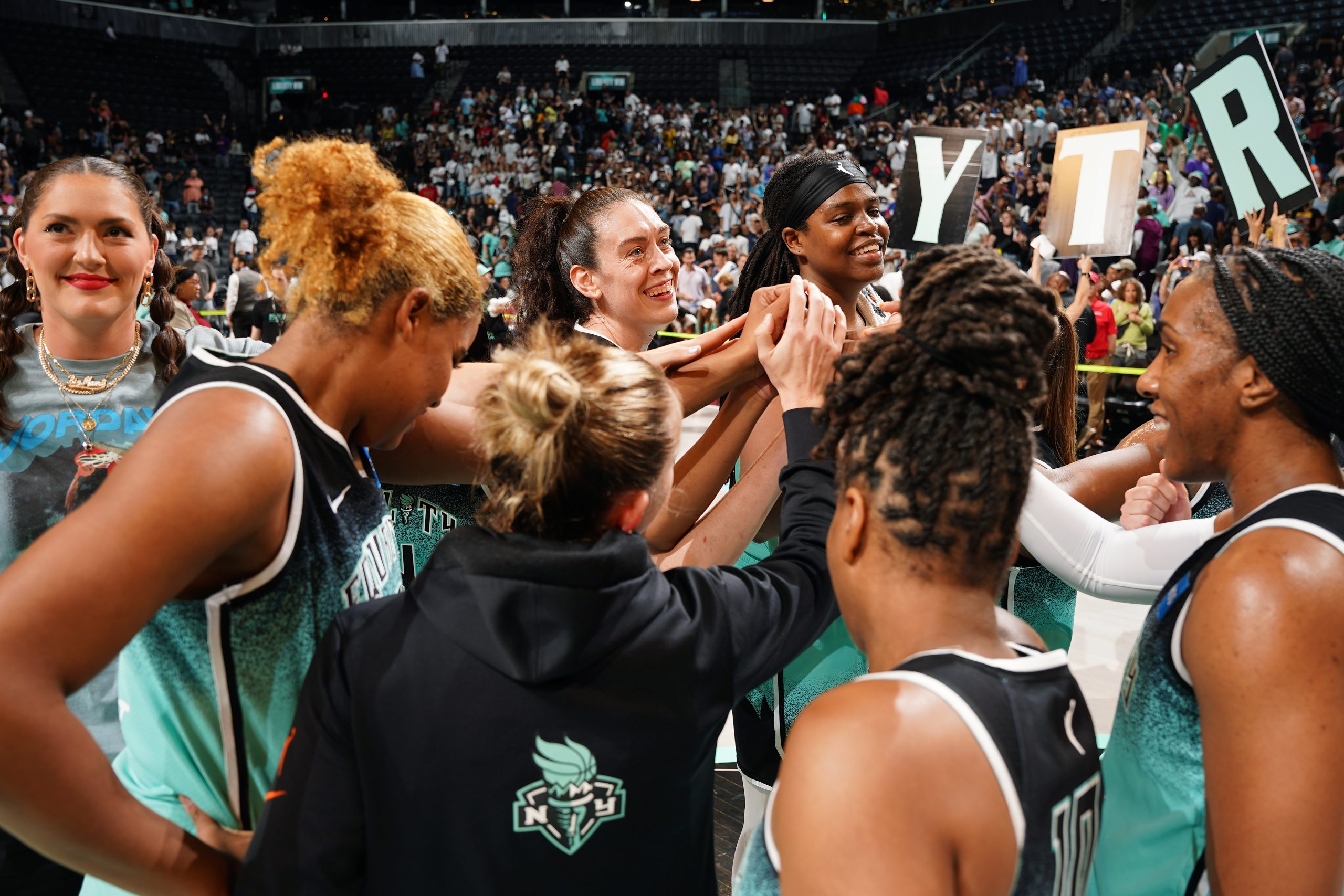 With a 200 percent increase in Liberty season ticket sales, there's no doubt that the new trio, which played together on Russia's UMMC Ekaterinburg overseas, brought some fans with them, too.
The moment Vandersloot's move to Brooklyn became official, Michael Giammanco, a Chicago resident and 12-year Sky season ticket holder, immediately knew he had to find a way to also be in Brooklyn this summer to watch the guard.
"I wonder how crazy it would be to try to get Liberty tickets," Giammanco recalls thinking to himself. "I thought, If this team is as good as advertised, they may be in the playoffs and possibly the Finals. What a great way to be able to have tickets secured to the WNBA Finals, which are harder and harder to get each year!"
The Windy City resident has his travel schedule down to a science. His luggage-less game days start bright and early with a flight from Chicago's O'Hare International Airport to LaGuardia Airport in Queens. Arriving at least an hour and a half before tip-off not only allows him the opportunity to watch Vandersloot and other Liberty players go through their pre-game routines but gives him ample time to enjoy French toast or a cheeseburger at the Crown Club restaurant, located on the floor level of Barclays, before making his way to the Candy Bar to grab some snacks to munch on during the game. When the final buzzer sounds, Giammanco zips out of Barclays and heads back to the airport to fly home.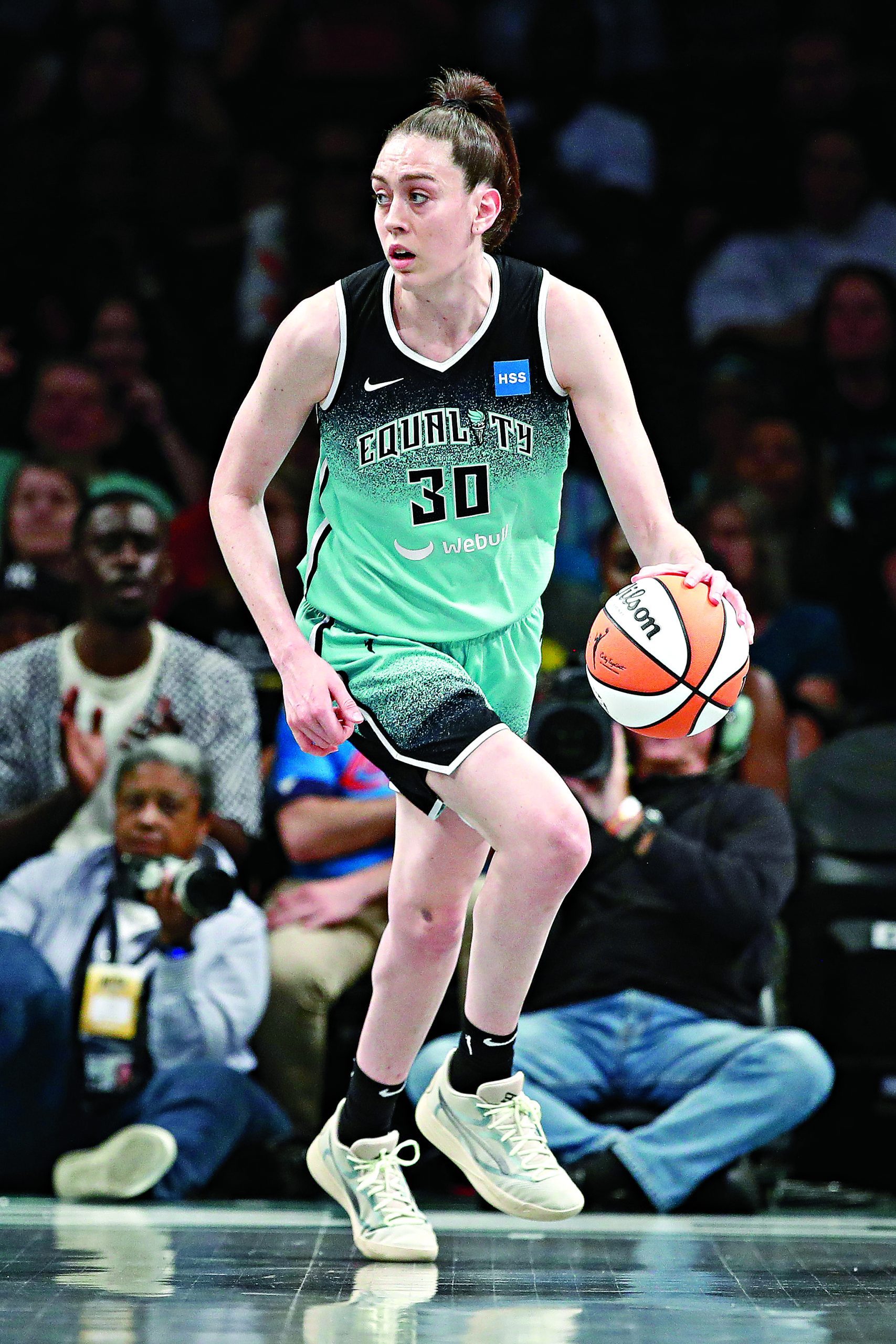 Just like his travel, his game-day outfits are planned to a T. His fits are fashionable and eye-catching but also comfortable for a long day of travel. His inspiration? Giammanco is just trying to match Breanna Stewart's energy when it comes to pulling up to games in style. "[The players are] dressed to kill," he says. "Fashion in the WNBA has really merged beautifully," he says.
Whether it's a commitment to a player or a look, commitment is found throughout Barclays Center.
Helen Settles has been with the team since day one. When Settles, a retired educator of 36 years and current basketball coach of 53 years, is asked how long she's been a Liberty season ticket holder, she blissfully relays the date "June 29, 1997." That's when the Liberty hosted their first-ever home game at Madison Square Garden, beating the Phoenix Mercury 65-57. She sat right across from the Liberty bench back then and 27 years later, she's courtside in the same position.
"I had been waiting…to see women playing professional basketball in the United States," the 73-year-old says. "It was electrifying."
Settles still has the keychain embossed with the date of that first home game. She keeps it tucked away in her memorabilia cabinet. Out of everything she has collected through the years, including signed jerseys, a Maddy the mascot doll and her inaugural WNBA ball signed by former New York players, it's her Liberty stuffed teddy bear with the year 1997 on it which remains her favorite possession.
Whether the Liberty played at MSG, the Prudential Center in Newark or the Westchester County Center, Settles has always been in attendance. She has been with the team through their 17 WNBA playoff appearances as well as their four Finals appearances (1997, 1999, 2000, 2002). "The original Liberty players were great and they should have won a championship," Settles tells WSLAM. "I'm just waiting for the day when the Liberty get a WNBA championship."
When New York lost their season opener to the Mystics on the road, Liberty legend Kym Hampton found a mic to address season ticket holders at the team's watch party. She spoke love and positivity to the fan base like your favorite preacher on Sunday. Her message was well received, especially by Long Island resident and season ticket holder Deidree Golbourne.
"I think that energy from a legend, somebody that played for the Liberty, that knows how the League is, brought such a sense of security for all of us," Golbourne says. "I know that the energy that former Liberty legends like Sue Wicks and Kym Hampton bring [provides] a sense of mentorship to not only fans but definitely some players…I love that there is a love and admiration there on both ends to make sure that we make it to the other end."
Stewart and Vandersloot expressed their shared desire to win a WNBA championship for the franchise in their joint introductory press conference at the Barclays Center in February. "I was a part of a first-time champion [with] the Chicago Sky. I do know how special that first time is," Vandersloot said. "So to bring that first one for the Liberty, it [would be] something special."
Even though Jonquel Jones is in her first season with Liberty, the phrase "unfinished business" means something to her.
"When you put together the group of players that we've put together, people obviously expect you to be able to do something and go out there and fulfill your true potential," Jones says.
Despite not having the start that she had hoped for, as she was still in recovery mode from the stress fracture she sustained in her left foot during the Finals last year, Jones feels comfortable in New York.
"I always tell people, you learn a lot about people [based on] the way that they treat you when things aren't generally going the way that they would expect it to go," she says. The patience that the Liberty community has had with her isn't lost on the 29-year-old.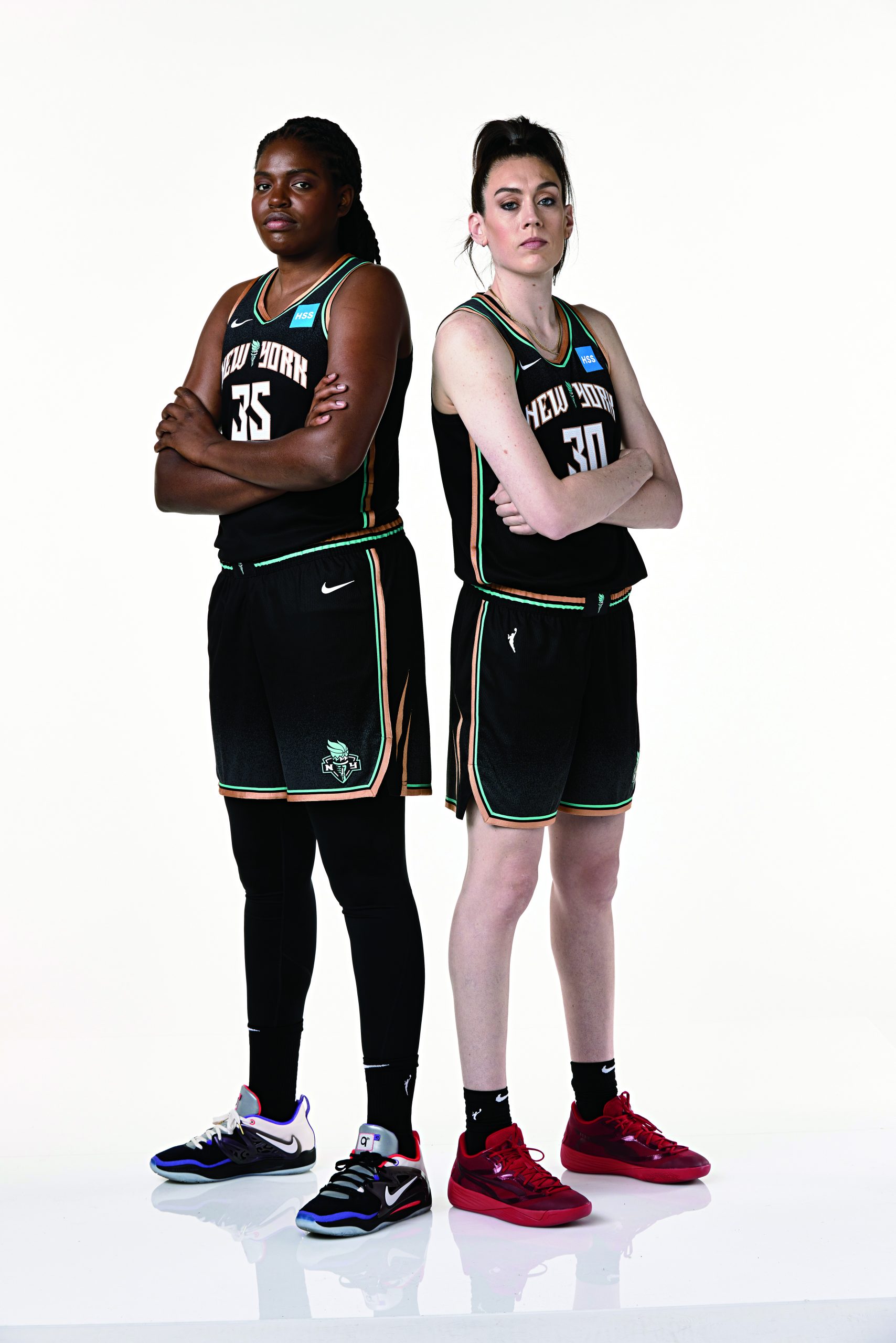 "I've appreciated people just staying in my ear about the things that I can do on the court, just giving me that positive reinforcement," Jones shares. "I think that just makes me feel even more comfortable that no matter what happens, they're going to have my back and they know what I can do."
Jones can count on the Liberty fan base's energy, which she describes as "contagious."
"I think when you come into this arena, you really get the sense of what New York fans are like and how much they love and know the game of basketball," she says. "I love that for us and I love that for the WNBA and the Liberty, [who] have never won a championship."
Ellie, the Liberty's elephant mascot who has arguably the best dance moves in the League, plays a significant role in keeping spirits high.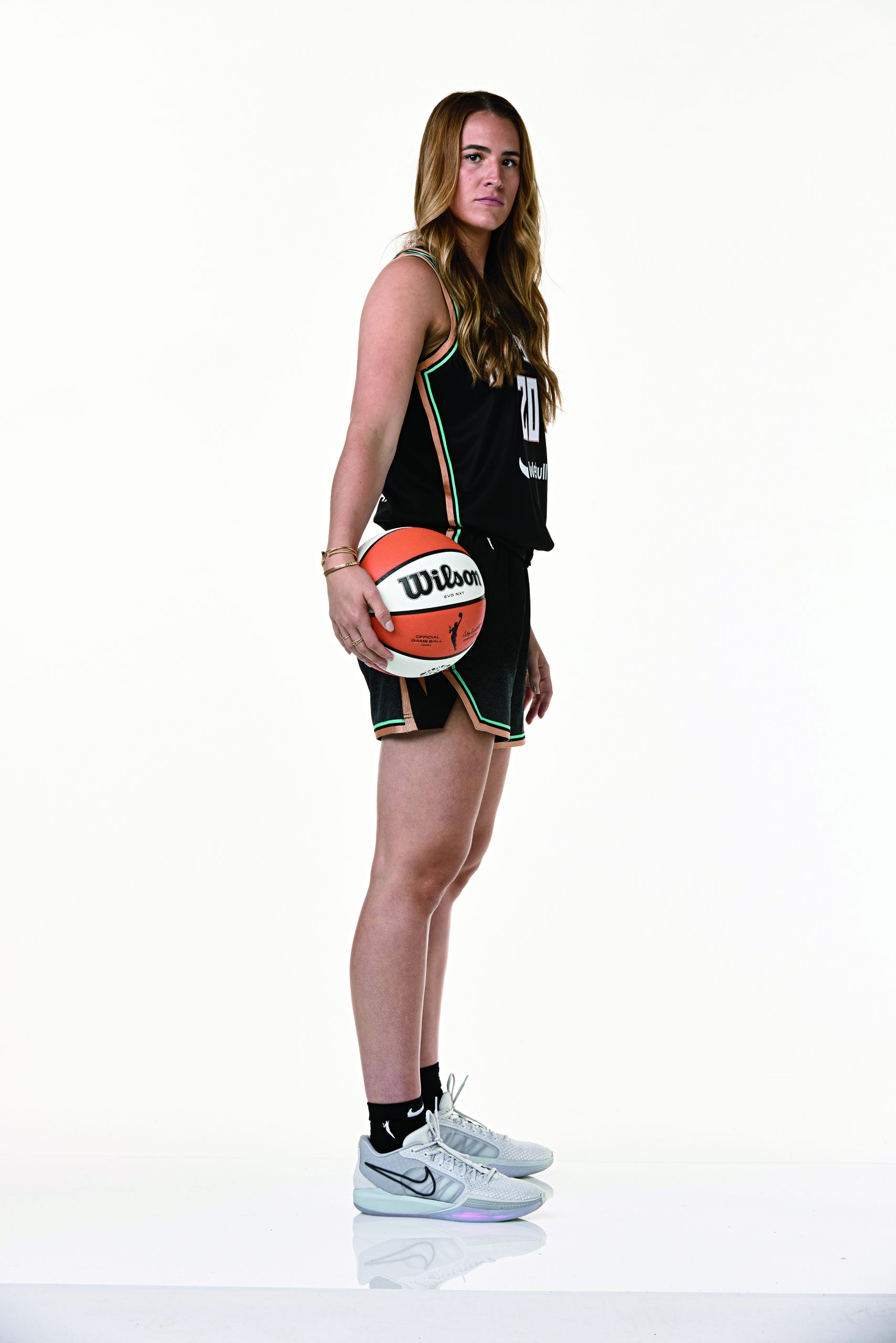 "I feel like every time I'm looking at something, I catch Ellie in the corner [and] I'm like, Damn, Ellie getting it. Ellie is crazy," Jones adds.
The excitement surrounding the franchise has led celebrities like Issa Rae, Lola Brooke, Chef Kwame Onwuachi and H.E.R. to Barclays Center. Brooklyn Nets star Mikal Bridges is one of the team's biggest supporters and has yet to miss a home game.
"The energy is loud, it's bold," Golbourne says. "It's very New York. It's very in your face. I think the energy in Barclays alone—it's the loudest I think I've ever experienced."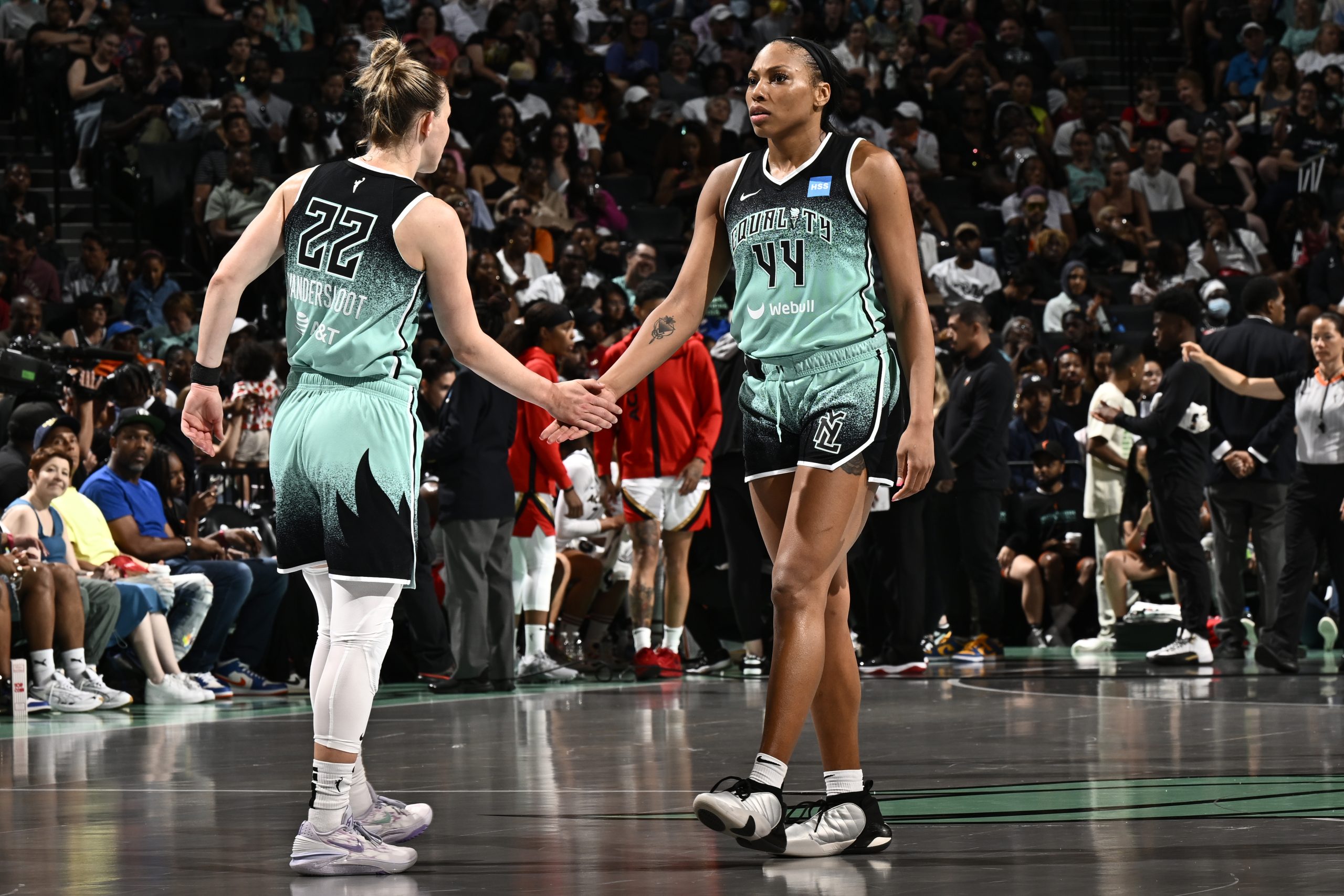 One of the loudest games was the team's home opener, when Breanna Stewart broke the franchise record with 45 points, which she topped off with 12 rebounds and 3 assists. "There are so many integral moments that are not captured on camera between fans and players," Golbourne says. "Those are the moments that make it worthwhile to be a [Liberty] season ticket holder, but also just to support the W."
All that Golbourne enjoys about the diverse and inclusive Liberty community is thanks to the organization's Chief Brand Officer Shana Stephenson. The Long Island native oversees the team's branding and campaigns, which includes working closely with basketball operations when they're pitching free agents and leading the creative team tasked with establishing the franchise's tagline, plus helping it all come to life on social media, at Barclays and beyond.
"When I stepped into this role, it was really my goal to help our fan base become younger and cooler and attract my friends, people that look like me, or [fans that] are tapped into the pulse of New York culture, but also maintain the heart of the New York Liberty," Stephenson says. "And so that means attracting our queer fan base in an authentic way."
When Stephenson looks at the Liberty fan base, she wants it to be a microcosm of New York City. "We want everyone to feel represented," she explains. "We don't want anybody to feel like, I don't belong here or fit in here. So we're always very intentional in terms of how we curate games and program theme nights. We want to make sure that we're really connecting with as many New Yorkers as possible."
Later this season, the Liberty will give a nod to Brooklyn's Little Caribbean and Bahamian Jonquel Jones when it hosts its first-ever West Indian Heritage Night.
"We just felt like this was a prime opportunity to recognize Caribbean culture and celebrate it," Stephenson says. "I will say that it will be a very lit game. I have roots in St. Thomas and St. Croix and I'm looking forward to just having the culture fully represented that night."
While she handles the brand, she lets the players do their jobs on the court. She believes this year's Liberty team has one of the best rosters in the WNBA, and in Liberty history.
"The expectations around the team and the excitement around the team make my job a lot easier as well," Stephenson admits. "I don't have to manufacture a story to create the excitement and interest around the Liberty and the players—it's there. It's real and we can just see that more and more fans are paying attention to what we're building in Brooklyn."
Heading into the All-Star break, the Liberty are third in the League with a 9-3 record. A recent OT thriller saw 2023 All-Star captain Breanna Stewart seal the game with a three-pointer to beat the Mystics. Sloot, Stewie and Ionescu are ranked top-five in the League for points, rebounds, assists, blocks and three-pointers made. There's really no reason this team can't make it deep into October. For fans like Helen Settles, who have been with the team from the very beginning, it'll be worth the wait.
---
Photos via Getty Images.